A JOURNEY INTO THE HISTORY OF EDUCATION IN ASTURIAS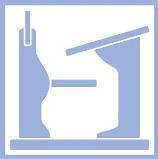 The museum is situated in the village of Viñón, Cabranes, seven kilometres from Villaviciosa and fifteen from Nava. The building was designed by the provincial architect Javier Aguirre Iturralde and inaugurated in 1908. It was a unitarian school for 120 students divided into two classrooms in the ground floor, one for schoolboys, one for schoolgirls.
The living quarters for two teachers were in the first floor. The museum was opened in august 2002 and is municipally owned. This school, the first to be created in the council, houses now a big collection of furniture, equipment and textbooks from 1911 to 1970. It is an accurate reflection of periods and conceptions of teaching very different from nowadays. Toys from different periods are also exhibited to complete the picture of the children world.
The visit offers a chronological journey through the history of education in Asturias. You can go either into a republican school or into a school from the era of General Franco. But always the main reference will be the persons who were educated there so that, through their testimonies, visitors could obtain a wide view into the school, its architecture, methods and didactic materials, and the way of life of teachers and pupils in a rural area.
The teacher's home recreates the space where they led both their family and working life. The reminiscent atmosphere of classes and teacher' house leads visitors to imagine life in other places and other times.
The Museo de la Escuela Rural de Asturias is in front of the Romanic church of San Julián de Viñón (XI century), only a few metres from the recreational area of Peña Cabrera and of the starting point of the route of Traditional Architecture going all through the council of Cabranes.
Address and telephone numbers
Carretera AS-255, km 7.5
33310 Viñón (Cabranes)
Tel. 985 898 213
Fax. 985 898 002
Opening hours
Consult schedule: www.cabranes.es